Digital transformation puts advanced technologies at the heart of your business, how it forces you to rethink the way you work that cloud be much faster than you imagined and in ways you never considered. Cloud transformation helps you see your possible, and we make it your reality with our products and solutions.
In this blog, we're going to look at some of the highlight benefits of cloud transformation, as well as how all of them are solved by the suite of Sunteco Cloud Cloud Transformation Solutions.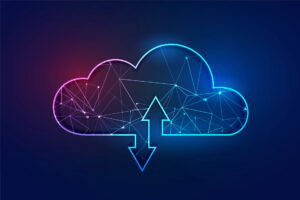 1. So, what is cloud transformation anyway?
Cloud transformation is the process of transforming your business to the cloud, which includes business's data, applications and softwares. This sounds easy and straightforward, but the process can be daunting. Cloud transformation does not mean simply switching to a cloud-based solution, it involves …
Migrating apps and software programs

Moving company data to the cloud

Transforming your IT infrastructure
The amount of time it takes to see your cloud transformation results depends on the complexity of your operation. It can last for years to move your system to the cloud. If you use cloud services, this process can be shortened to a few months.
2. Why should companies transform their business to the Cloud?
Reduce IT costs
Moving to cloud computing may reduce the cost of managing and maintaining your IT systems. Rather than purchasing expensive systems and equipment for your business, you can reduce your costs by using the resources of your cloud computing service provider. You may be able to reduce your operating costs because:
The cost of system upgrades, new hardware, and software may be included in your contract

You no longer need to pay wages for expert staff

Your energy consumption costs may be reduced

There are fewer time delays.

Using the cloud frees up your time so you can get on with running your business.
Flexible scalability
Your business can scale up or scale down your operation and storage needs quickly to suit your situation, allowing flexibility as your needs change.
There may be times your business unexpectedly makes a sudden breakthrough, goes through an enormous growth period, or simply needs to upscale its storage space to get ahead of future demand. A significant benefit of moving applications to Cloud computing is that if and when that happens, you can scale with agility, without significant hardware investment.
With Cloud solutions, you also tend to pay for what you need. As those needs change over time, your hosting company will be flexible enough to meet them. 
Business continuity
Protecting your data and systems is an important part of business continuity planning. Whether you experience a natural disaster, power failure, or other crisis, storing your data in the cloud ensures it is backed up and protected in a secure and safe location. Being able to access your data again quickly allows you to conduct business as usual, minimizing any downtime and loss of productivity.
Efficient collaboration
Collaboration in a cloud environment gives your business the ability to communicate and share more easily outside of traditional methods. If you are working on a project across different locations, you could use cloud computing to give employees, contractors, and third parties access to the same files. You could also choose a cloud computing model that makes it easy for you to share your records with your advisers (e.g., a quick and secure way to share accounting records with your accountant or financial adviser).
The flexibility of work practices
Cloud computing allows employees to be more flexible in their work practices. For example, you can access data from home, on holiday, or via the commute to and from work (providing you have an internet connection). If you need access to your data while you are off-site, you can quickly and easily connect to your virtual office.
During the onset of COVID-19, Cloud-powered companies were best placed to adapt to government-enforced home-working. With that now proven to be a viable working process, employees are sure to request more flexibility from their bosses than ever before. Hybrid and remote work is predicted to become a norm for knowledge workers in the future. Migrating to the Cloud, then, might be a necessity when it comes to retaining and attracting the best people.
Access to automatic updates
Access to automatic updates for your IT requirements may be included in your service fee. Depending on your cloud computing service provider, your system will regularly be updated with the latest technology. This could include up-to-date versions of software, as well as upgrades to servers and computer processing power.
High security
Any data backed up in the Cloud is encrypted – which means only the people you want to see it will be able to. Cloud hosting providers also constantly monitor and update their security features, which means your data is as secure as possible – all without your IT team needing to lift a finger.
As long as device access is kept to your employees, using the Cloud is the safest way to operate a business from a data security perspective.
Read the full article of cloud transformation's benefits here.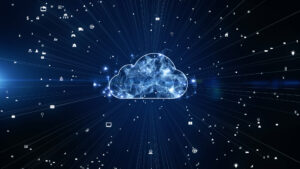 3.
How to succeed in the cloud transformation journey? – Discover the suite of Sunteco Cloud products and solutions
Harnessing the Cloud in all its forms — whether it's new digital revenue streams, smarter ways of working, on-demand software applications, data and infrastructure services, or delivering superlative customer experiences — can be an overwhelming proposition.
We start with the business outcome you're after and radically rethink how cloud technology can help you get there more quickly, by combining the power of our Sunteco Cloud platform, industry know-how, and robust cloud engineering capabilities. Fast forward your business with Sunteco's Cloud Transformation solution – a business-first approach to leveraging the Cloud.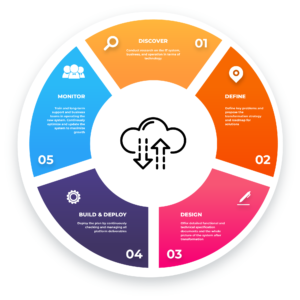 Step 1: Discover 
Determine the business and current IT status. Determine why we are doing it. What challenges are we trying to solve? Find the problems and room for improvement. 
Step 2: Define
Create a transformation strategy and roadmap. Suggest key problems to be resolved and how to resolve
Step 3: Design
How does the system look after transforming? What are the benefits and how to exploit them? Detailed functional and technical specification documents
Step 4: Build & deploy
Build and migrate the current system to the new system. Support IT & business teams in operating new system. Continuously check to test and manage all platform deliverables transparently.
Step 5: Train, monitor & optimize
Train and long-term support IT and business in the integration and usage. Continuous learning and iteration of the design and functional elements to maximize growth.
Ready to take the next step on your cloud transformation journey?
Sunteco Cloud provides technology solutions and products through the Sunteco Cloud ecosystem, accelerating the digital transformation journey of businesses of all sizes. We focus on creating simple, engaging, and scalable solutions to ensure that we understand your business and challenges to deliver significant results effectively. Each product is just a piece of the big business picture. So we don't start from our product but your business.
> Learn more Sunteco Cloud ecosystem
> See more Sunteco Cloud products' pricing plan
> Get a free trial with Sunteco Cloud products and get $100 when creating a new account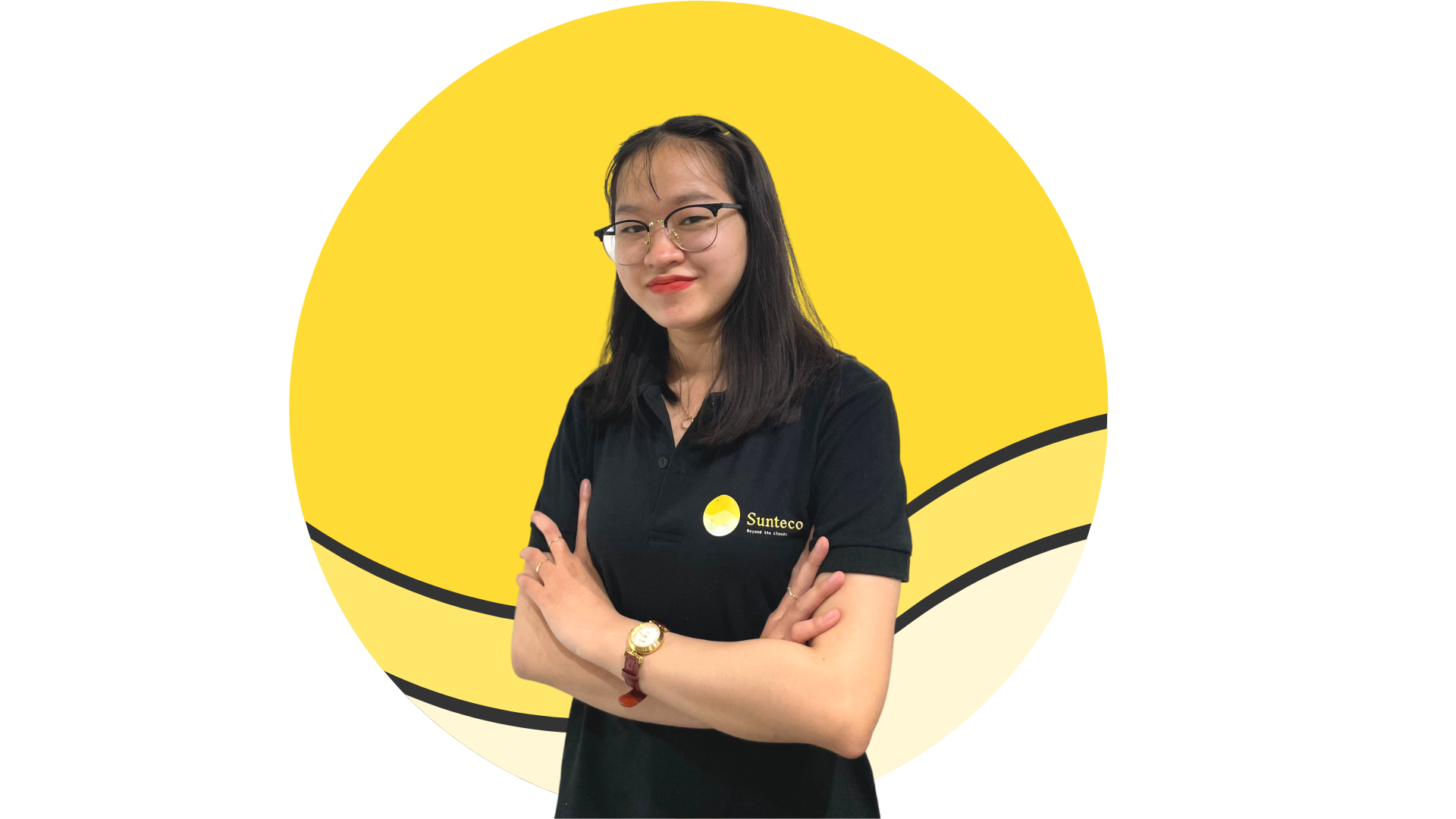 Huong Nguyen (
Sarah)
Digital Specialist
I am a Digital Specialist on Sunteco | Get blogs and the latest technology news and other cool stuff related to the (Container | Messaging | VM).